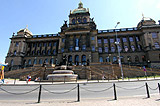 The place where the tourists always head – Prague Wenceslas Square where you can smell sausages, tourists meet among luxurious shops and prostitutes, diggers and construction barriers. This most famous Czech square has always been mirroring the age in which Czechs lived, adjusting itself according to the atmosphere.
Changes of Wenceslas square were being pictured for forty years by a Prace paper photographer Vilem Kropp, who walked through it every day and his black-and-white nostalgic photographs able us to see the Square as it lived in 40s and 80s, at the exhibition which is placed directly in the lower part of the square.
The pictures depict the square in the days of loneliness as well as filled with crowds during important history dates. The exhibition also looks to the future, with the bright project which should start in 2014. The exhibition ends this Friday 17th October 2008.