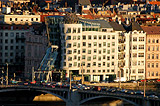 The Czech Metropolis has become after 1989 a favorite destination of architects abroad.
1.Dancing House
Can't stress enough how good Dancing House is. The masterpiece of Vlado Milunic and Frank Ghery is indeed a jewel, accompanying a line from 19th century. When build, people were shocked, as this could very well have been the first innovative building after years of communist grayness.
2.Golden Angel
Smichov was traditionally an industrial quarter typical with its black-scale facades. When the factories went to the other world, Andel became one of the most rush crossroads in Prague, with business and shopping centre by Jena Nouvel.
The rest of the Article at Imported Architecture
Planned Skyscrapers at Pankrac again centre of dispute [January 22 2009, 09:50 AM]
The Wing of Palace at Prague Exhibition Ground is Back [January 20 2009, 17:38 PM]
Prague Refuses to penalise itself for Charles Bridge Repair [December 30 2008, 15:58 PM]
Prague Industrial Palace Fire Source? Still Unknown [December 10 2008, 13:41 PM]
How to repair Charles Bridge [December 2 2008, 13:38 PM]
Prague Industrial Palace Plans lost & found [November 26 2008, 17:34 PM]
The Charles Bridge dispute goes to Court [November 21 2008, 09:32 AM]
Prague Houses by Incomers, Imported Architecture [November 19 2008, 11:55 AM]
Prague National theatre Celebrates 125 years from its re-opening [November 18 2008, 17:46 PM]
Representatives of no-close-narodni-metro-station petition met politicians. [October 16 2008, 13:32 PM]
Czech National Building in New York re-opens [October 16 2008, 09:47 AM]
Seaworld at letna finally denited! [October 10 2008, 11:56 AM]
New Space Lagoon in Prague Seaworld [October 8 2008, 15:35 PM]
Prague court came between developer and Pankrac [September 8 2008, 13:45 PM]
Tesla Arena: The New Name of T-Mobile arena [September 5 2008, 13:34 PM]
Pankrac Skyscrapers are going to be there [August 15 2008, 11:26 AM]
UNESCO: Prague shouldn't build skyscrapers taller 70m [August 14 2008, 11:50 AM]
Brothels in Prague are Camouflaged. They have to be. [July 29 2008, 11:59 AM]
Zizkov transmitter prepares for its 'air show' [June 19 2008, 15:36 PM]
Prague Main Bus Station Florenc Reconstruction [June 18 2008, 11:49 AM]
It's decided: The new post-modern skyscrapers will be build in Prague [June 17 2008, 13:49 PM]
Will Old Town Square Get a new Building? [February 21 2008, 17:55 PM]
Second Big Reconstruction of Prague Congress Centre at hand [January 22 2008, 11:36 AM]
Charles Bridge statues Cleanup [January 14 2008, 09:40 AM]
Project of Letna Ocenaium Underwater World in Prague moved or ended [December 5 2007, 18:25 PM]