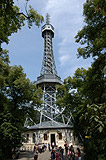 The entrance to several popular monuments in Prague is more expensive. The administrators of these monuments were forced to increased the entrance fee because of higher payments for gas, electricity and wages.
Among those monuments, where visitors have to pay more now, are Petrin Observation Tower, Old Town City Hall, Old Town Hall Tower and Old Town Bridge Tower, National Museum. The Seaworld announced a big rise in prices (from 150 CZK to 240 CZK).
Also Prague Zoo increased the prices of tickets at the beginning of the year. Troja card that enables the entrance to Prague Zoo, Botanical Garden and Troja chateau costs now 200 CZK instead 120 CZK.
Although the profits from the entrance fee cover a big part of the costs, the monuments have to be funded from the city budget. Prague city also offers several tourist information centres where employees provide tourists with information for free.
Scuba divers found pieces of a bridge which was before the Charles Bridge in Prague [February 5 2009, 15:49 PM]
Prague not penalizing itself for Charles Bridge reconstruction [January 26 2009, 15:33 PM]
The Charles Bridge Reconstruction Dispute probably ends in a draw [November 12 2008, 08:25 AM]
Charles Bridge reconstruction - bungled or not? [November 6 2008, 14:22 PM]
Problems of Charles Bridge reconstruction [November 5 2008, 09:07 AM]
Old Town Square: Enthusiasts want Historical Pillar to return, have 3 pieces of replica already made [November 4 2008, 10:36 AM]
Charles Bridge myth is soon going to be Busted ... or proven True. [September 19 2008, 16:43 PM]
Mayors have delivered a petition against closing of Masarykovo Nadrazi [September 3 2008, 17:58 PM]
List of Most Wanted of Tourist Prague [September 1 2008, 13:46 PM]
Charles Bridge was harmed by salt, water and thoughtless repair [August 14 2008, 13:31 PM]
Masarykovo nadrazi – 19th century railway station in Prague planned changes [August 6 2008, 16:01 PM]
Charles Bridge Reconstruction [July 15 2008, 09:49 AM]
Prague doesn't, but Melnik wants the gift from Sarkozy [June 20 2008, 11:55 AM]
Czechs Refused Palach Statue [June 13 2008, 11:46 AM]
Will The Old Town City Hall ever be Completed? [May 7 2008, 18:01 PM]
Radecky's Statue to come back to Little Quarter? [April 18 2008, 11:48 AM]
Charles Bridge damaged more than expected [March 17 2008, 09:31 AM]
Digitalized model of Prague soon ready [February 19 2008, 09:04 AM]
Spring Weather got Charles Bridge reconstruction back on track [February 8 2008, 15:31 PM]
Tyn church, vista point of Old Prague, gets New Bell [December 10 2007, 17:50 PM]
Statues came back on the Astronomical Clock [December 7 2007, 12:05 PM]
A Vandal at Prague Astronomical Clock [December 6 2007, 14:15 PM]
Freezing weather ended Charles Bridge repairs [November 30 2007, 17:53 PM]
Archaeologists finished exploration of Charles Bridge [November 19 2007, 14:01 PM]
Martinic Palace in Prague opens to the public [September 7 2007, 14:41 PM]
The building of the Old Town Hall will be finished at last [August 20 2007, 14:06 PM]
Charles Bridge is finally under reconstruction [August 20 2007, 09:06 AM]
More tourists in Prague monuments this year [July 20 2007, 10:45 AM]
Uknown Prague Castle [July 19 2007, 11:38 AM]
Hewbrew inscription is back on Charles Bridge [July 4 2007, 09:47 AM]
Schwarzenberg Palace will be open again for one day [June 28 2007, 09:59 AM]
The number of Prague monuments is limited for people in wheelchair [June 25 2007, 14:48 PM]
Prague Royal Route for blind people [June 19 2007, 11:36 AM]
Czech modern history in the Vitkov monument [June 8 2007, 10:56 AM]
Some Prague sights were 'out of order' this week [June 7 2007, 14:27 PM]
New camera system will monitor the statue of St Wenceslas [May 30 2007, 14:20 PM]
The reconstruction of Charles Bridge starts in summer [May 22 2007, 10:58 AM]
Kramar's villa will be open to the public [May 21 2007, 19:13 PM]
Big plans for Klementinum in Prague [April 26 2007, 15:51 PM]
Palace gardens under Prague Castle are more and more popular [April 24 2007, 16:41 PM]
Masses of people queue in front of St Vitus Cathedral [April 17 2007, 13:10 PM]
Restoration of the Statue of Jan Hus will take longer [April 12 2007, 11:24 AM]
Electronic fence along Charles Bridge in Prague [April 10 2007, 14:06 PM]
New security cameras watch Charles Bridge from today [April 6 2007, 09:03 AM]
Entrance to the crypt and the tower of St Vitus Cathedral for free [April 5 2007, 09:59 AM]
Statue of Jan Hus in Old Town Square in Prague is under reconstruction [April 3 2007, 11:51 AM]
Finally St Vitus Cathedral at Prague Castle for free [April 2 2007, 17:22 PM]
Many Prague attractions will open in April [March 30 2007, 14:10 PM]
Charles Bridge in the year 2007 [March 26 2007, 16:45 PM]
Prague will celebrate the anniversary of Charles Bridge [March 21 2007, 16:34 PM]
Entrance fee to several monuments in Prague more expensive [March 19 2007, 18:27 PM]
Old Town Bridge Tower will be closed for two days [March 16 2007, 15:57 PM]
10 new cameras on Charles Bridge in Prague [March 12 2007, 13:44 PM]
Dramatic discussions about St Vitus Cathedral in Prague [March 9 2007, 14:06 PM]
No entrance fee to St Vitus Cathedral from this Wednesday? [March 5 2007, 10:00 AM]
Municipal House will be more open to the public [February 28 2007, 09:50 AM]
Scuba divers found more fragments from the statues [February 21 2007, 11:28 AM]
No entrance fee at St Vitus Cathedral again soon [February 19 2007, 12:11 PM]
Richter Villa will be open to the public for the first time [February 12 2007, 12:11 PM]
New services and exhibitions at Prague Castle [February 9 2007, 14:13 PM]
Prague Castle in more languages this year [February 8 2007, 14:52 PM]
Entrance to Muller Villa is 50% cheaper [February 8 2007, 12:36 PM]
Precious inscription on Charles Bridge has been removed [February 7 2007, 11:36 AM]
Prague Vitkov Memorial will turn into a modern museum [February 6 2007, 12:37 PM]
Valuable inscription lay under the Charles Bridge [February 2 2007, 11:08 AM]
Reconstruction of Vysehrad continues [January 30 2007, 12:03 PM]
Will vandalism change Charles Bridge? [January 30 2007, 10:49 AM]
Historically significant inscription on Charles Bridge destroyed [January 29 2007, 10:54 AM]
Reconstructions in Prague in 2007 [January 8 2007, 10:46 AM]
Charles Bridge will be restored at last [December 29 2006, 11:04 AM]
Charles Bridge Museum [December 19 2006, 10:39 AM]
Charles Bridge on a virtual CD [December 13 2006, 11:35 AM]
More Czech monuments on the UNESCO World Heritage List? [December 5 2006, 11:07 AM]
Changes at Charles Bridge [November 8 2006, 15:02 PM]
Changing of the statues on Old Town Bridge Tower [November 3 2006, 12:21 PM]
The Old Town Hall finished after years? [October 5 2006, 11:45 AM]
Vysehrad opens its most valuable part [October 4 2006, 11:45 AM]
Ruin Baba in Prague illuminated [October 2 2006, 15:49 PM]
Memorial at Vitkov hill will be closed [September 14 2006, 16:05 PM]
St. Vitus Cathedral belongs to Church, changes appears [September 7 2006, 10:56 AM]
Tip to trip: Zbraslav chateau [August 21 2006, 14:41 PM]
Petrin tower has 115 years [August 21 2006, 09:54 AM]
New type of light at Charles Bridge [August 15 2006, 14:48 PM]
Astronomical Clock and Jewish Quarter [August 9 2006, 10:23 AM]
Trip to castle in Prague [August 2 2006, 14:38 PM]
Prague's architectonic landmarks in need of restoration [July 31 2006, 15:28 PM]
Brevnov monastery in Prague [June 30 2006, 21:06 PM]
Prague St.Vitus Cathedral belong to the Church [June 16 2006, 13:59 PM]
New Royal garden will be renewed and opened [June 6 2006, 14:23 PM]
Repair of Charles Bridge starts in autumn [May 23 2006, 11:13 AM]
National theatre will be repaired [April 13 2006, 16:22 PM]