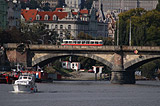 The Prague Public Transport Company announced at the press conference today that Prague dwellers and visitors can expect 6 large tram service disruptions during the summer due to maintenance of the rails.
One of the biggest service disruptions will be in Palackeho square from 18th July until the end of October. The rails between Strossmayerovo square and Cerny most will be repaired between 6th July and 22nd August, between Radosovicka street and nadrazi Hostivar from 5th July to 9th July and at the crossroads at Klarov and Letenska street (near Malostranska metro station) from 17th August to 3rd September. Stefanikuv Bridge keeps closed until 22nd August, and the crossroad at Albertov until 18th July.
The service disruptions will be also announced in a new information campaign in the form of leaflets. The leaflets will also inform how to use the public transport to get to interesting places in Prague.
Prague Transport Company Changes in 09 – less of everything [January 27 2009, 09:55 AM]
Prague Parking Zones Changes in 2009 [January 23 2009, 13:53 PM]
Underground Prague Highway should save the Wenceslas Square [January 21 2009, 13:49 PM]
Congress Centre: Traffic During Chairmanship [January 15 2009, 13:18 PM]
Gas cheaper, Taxi not in Prague [January 9 2009, 11:42 AM]
Pay for Prague Parking by Mobile Phone [January 5 2009, 17:32 PM]
Prague Public Transport, Sundays 2009: less lines [December 22 2008, 08:49 AM]
Christmas parking in Prague for Free [December 17 2008, 09:54 AM]
CSA Flights no longer with Free Food [December 12 2008, 07:48 AM]
Future Toll in Prague: Proposal of 120 czk [November 20 2008, 09:46 AM]
Czech Greens made trucks stop on Friday evenings. [November 13 2008, 15:26 PM]
Czech Police has new cars, 2009 style management of traffic accidents [November 3 2008, 14:39 PM]
The tunnel under Vysehrad is out of order [November 3 2008, 10:46 AM]
When do I need Winter Tires in the Czech Republic? [October 31 2008, 14:33 PM]
The station Narodni trida in Prague will be only closed for 8 months [October 31 2008, 08:44 AM]
The tunnel under Vysehrad is going to be closed. [October 31 2008, 07:06 AM]
Engineering sites under Prague sight-seeing [October 16 2008, 11:23 AM]
Borders of Prague to have more green [October 15 2008, 09:55 AM]
Road-toll in the centre of Prague will be 50-100 czk [October 14 2008, 14:03 PM]
CSA strengthening lines to Germany [October 9 2008, 11:29 AM]
Afterpiece of Prague Taxi Demonstration [October 8 2008, 11:48 AM]
The USA to abolish Visas for Czechs? [October 7 2008, 09:47 AM]
Road-toll in Prague silently coming nearer [October 6 2008, 13:38 PM]
Prague Taxi Drivers Demonstrate at Airport [October 1 2008, 08:58 AM]
New Prague Tourist Map: Sightseeing routes by Tramway [September 23 2008, 15:55 PM]
Bem Drove new Prague Tramway [September 19 2008, 09:56 AM]
Prague New Tramway Revealed [September 18 2008, 11:33 AM]
Noise Map of Prague [July 17 2008, 11:45 AM]
Ruzyne Airport will be sold directly [June 3 2008, 17:34 PM]
In the Czech Republic, diesel oil is more expensive than gasoline [May 22 2008, 08:50 AM]
Investigation of Biggest Car Accident in CR history [April 21 2008, 13:50 PM]
Police confiscates only old cars [April 10 2008, 12:05 PM]
Skoda Cars cheaper outside the Czech Republic [March 31 2008, 12:02 PM]
How to Find out Price of Taxi in Prague [January 7 2008, 14:05 PM]
Parking in Prague 1 and 2 paid only [December 20 2007, 11:02 AM]
Law Proposal Against Dishonest Taxi Drivers in Prague [November 26 2007, 10:06 AM]
Less time for Prague Traffic jams [September 26 2007, 12:00 PM]
Prague Airport Privatization [September 24 2007, 15:49 PM]
Don't underestimate old Czech ladies.. [September 14 2007, 10:58 AM]
Pleasure boats on the Vltava also in September [September 7 2007, 09:27 AM]
Road tax stickers will be more expensive [August 31 2007, 11:39 AM]
Stefanikuv bridge is open again [August 22 2007, 16:53 PM]
'Intelligent stops' will improve transportation in Prague [August 21 2007, 13:19 PM]
Prague public transport might be more expensive [August 7 2007, 13:29 PM]
Prague representatives are not in favour of cycle taxis [July 23 2007, 14:56 PM]
Prague public transport is one of the cheapest in Europe [July 19 2007, 10:01 AM]
From Prague district Smichov to Podoli by a new ferry [July 18 2007, 13:28 PM]
Bad traffic situation in Prague [July 12 2007, 10:00 AM]
New ferry transport in Prague [July 9 2007, 13:15 PM]
Prague roads safer than a year ago [July 4 2007, 15:14 PM]
Large police controls on the roads this weekend [June 29 2007, 14:54 PM]
Charles Square will be closed for trams this autumn [June 27 2007, 12:33 PM]
New timetables for Prague public transport [June 27 2007, 09:16 AM]
Large service disruptions in Prague during the summer [June 26 2007, 17:01 PM]
Transportation in Prague disrupted tomorrow because of protests [June 22 2007, 13:41 PM]
Big plans for Prague public transport [May 23 2007, 10:49 AM]
Prague metro will be partly without drivers [May 18 2007, 11:20 AM]
17,000 runners in the streets of Prague this weekend [May 11 2007, 14:08 PM]
Prague: Drivers, use the button! [April 16 2007, 11:11 AM]
More paid parking places in Prague from September [April 11 2007, 15:26 PM]
Changes in transport conditions in Prague [March 27 2007, 12:37 PM]
Summer time will cause delays [March 23 2007, 11:14 AM]
Several Prague tunnels will be closed at night [March 20 2007, 12:35 PM]
Police focus on enforcement of speed limits on Czech roads [March 20 2007, 10:00 AM]
Road restrictions during Prague International Marathon [March 19 2007, 12:23 PM]
Funicular Railway to Petrin will be temporarily closed [March 8 2007, 09:27 AM]
More request bus stops in Prague [February 27 2007, 11:34 AM]
Higher speed on Czech highways? [February 27 2007, 10:03 AM]
Bus station Florenc will be reconstructed [January 29 2007, 14:07 PM]
More accidents on Prague's roads [January 10 2007, 13:23 PM]
Better train services in Prague [January 9 2007, 13:17 PM]
Minibuses in the centre of Prague [January 8 2007, 12:23 PM]
Shortage of road tax stickers [January 5 2007, 10:22 AM]
Mark-up of bus tickets [January 3 2007, 15:17 PM]
Safer pedestrian crossings in Prague [December 28 2006, 17:55 PM]
Transport changes in Prague on New Year´s Eve [December 28 2006, 12:00 PM]
Modernization of Prague's trams [December 21 2006, 11:26 AM]
Public transport in Prague during holidays [December 18 2006, 14:43 PM]
Trams will be back in Wenceslas Square [December 15 2006, 14:09 PM]
When (not) to pay the penalty on the bus? [December 11 2006, 12:07 PM]
New highways in the Czech Republic [December 5 2006, 14:37 PM]
The reconstruction of the Prague's main railway station starts soon [November 29 2006, 11:10 AM]
More bridges over Vltava in Prague [November 27 2006, 12:12 PM]
More expensive bus tickets [October 31 2006, 10:40 AM]
Faster way to Prague - new highways [October 2 2006, 10:57 AM]
The day without cars [September 25 2006, 15:56 PM]
European week of mobility [September 15 2006, 12:00 PM]
Parking lots P+R expand [August 31 2006, 12:21 PM]
Trucks appear on Czech roads during weekend [August 30 2006, 12:38 PM]
Prague defend citizen parking lots [August 29 2006, 09:55 AM]
Prague will need outer circuit as fast as possible [August 28 2006, 13:21 PM]
Cars can ride faster at some roads [August 16 2006, 11:48 AM]
Too many traffic signs [July 10 2006, 11:13 AM]
Prague will have a lot of detours [June 21 2006, 19:33 PM]
Old train tunnel will be used for bikers [June 20 2006, 11:34 AM]
Czech transport news [June 15 2006, 19:06 PM]
Pendolinos will be cheaper in summer [June 8 2006, 16:13 PM]
Building of Prague outer circuit continues [May 23 2006, 14:15 PM]
New kind of a transport in Prague centre [May 10 2006, 10:43 AM]
New trains on Czech tracks [May 4 2006, 16:14 PM]