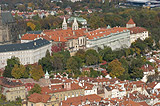 The history books might be changed. Archaeologists together with geneticists wants to examine the bone remains of 19 members of Premyslid family. The aim of their new project called Archeosteon (Old Bone) is to improve the knowledge about this ruling family (and maybe find an older, so far not known, member of the family) as well as to date the history of Prague Castle more accurately.
Even though the project should run in years 2008 – 2011, the pilot project that should find the best methods for the research started last year. The scientists want to improve the methods so that only a very small piece of the bone has to be removed for the research.
The laboratory had to be established in the very Prague Castle because the old bones are very precious and fragile. Small samples of the bones will be taken in small test-tubes into the hospital in Bulovka. The identification of the DNA will be very similar to the one used for paternity tests.