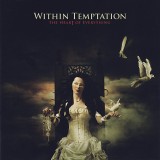 Dutch gothic metal band Within Temptation will visit Prague Club Roxy after the New Year. They released a new single CD on 5th October, although they have released album "The Heart Of Everything" this year.
Within Temptation is a symphonic metal band from the Netherlands. The band was founded in 1996 by vocalist Sharon den Adel and guitarist Robert Westerholt. Their music is variously described as symphonic metal, although in an interview, Sharon den Adel said they fell into a symphonic rock genre.
You can see and hear their concert on 17th January 2008 from 19:30 in Prague Club Roxy. Tickets are available in Ticketpro chain outlets and cost 700 CZK (23,3 €).
Napalm Death Concert in Prague [January 12 2009, 13:43 PM]
The Australian Pink Floyd Show [January 9 2009, 15:31 PM]
Monkey Business and Glenn Hughes in Prague Lucerna [December 8 2008, 15:42 PM]
The Sisters of Mercy in Prague concert [December 5 2008, 11:28 AM]
AC/DC and Black Ice head to Prague [December 1 2008, 15:40 PM]
The Levellers come to Prague, are catchy on their new album [November 10 2008, 10:43 AM]
The Real McKenzies in Prague 2day [November 4 2008, 17:21 PM]
Queen want to Rock the world in Prague [October 29 2008, 14:42 PM]
The Real McKenzies in Prague [October 16 2008, 17:46 PM]
AC/DC in Prague [October 15 2008, 15:58 PM]
Slayer in Prague ! [October 9 2008, 17:57 PM]
QUEEN and Paul Rodgers concert comes nearer [September 26 2008, 17:46 PM]
The Punk - Iggy Pop - this Saturday in Prague [September 18 2008, 15:26 PM]
Black Box Revelation in Prague [September 17 2008, 15:28 PM]
DIE HAPPY in Prague concert [August 26 2008, 12:01 PM]
Soulfly – Concert in Prague this Sunday [August 22 2008, 17:25 PM]
IGGY & THE STOOGES in Prague [August 19 2008, 17:31 PM]
Slayer + Mastodon + Trivium + Amon Amarth concert in Prague [August 18 2008, 17:49 PM]
Iron Maiden in Prague [August 4 2008, 17:46 PM]
Dropkick Murphys in Prague Roxy [July 16 2008, 14:25 PM]
QUEEN and Paul Rodgers in Prague [July 11 2008, 13:05 PM]
Avril Lavige 2nite in Prague [July 8 2008, 09:49 AM]
Avril Lavigne concert in Prague in Less than a Month [June 19 2008, 09:55 AM]
Coldplay in Prague O2 Arena [June 17 2008, 15:40 PM]
Lenny Kravitz in Prague in 10 days [June 13 2008, 13:46 PM]
Metallica concert in Prague Today, let your Cameras at Home [June 3 2008, 09:55 AM]
Metallica Tomorrow in Prague [June 2 2008, 13:53 PM]
Joe Satriani – Rock Virtuoso in Prague [May 27 2008, 09:55 AM]
Dinosaur Jr. + Awesome Color in Prague Acropolis [May 9 2008, 08:50 AM]
Die Ärzte in Prague club Roxy [April 25 2008, 16:06 PM]
Leonard Cohen to play at Prague Castle [March 25 2008, 15:56 PM]
HIM goes to Prague [March 10 2008, 15:14 PM]
Nick Cave & The Bad Seed in Prague [February 26 2008, 09:27 AM]
International Metal in Prague [February 25 2008, 07:16 AM]
R.E.M Heading to Prague Again [February 22 2008, 17:55 PM]
Lord Bishop (USA) and Volnaya Staya (RU) concert in Prague [January 15 2008, 07:28 AM]
French ConneXion – Ska Party in Prague : LES ÉJECTÉS (FR) and BASTA FIDEL (CZ) [January 4 2008, 14:29 PM]
Metallica Heading to Prague Concert 2008 [January 2 2008, 10:01 AM]
AVRIL LAVIGNE The Best Damn Tour concert Prague [December 27 2007, 08:57 AM]
U.K. SUBS + THE VIBRATORS in Prague – Legends of Punk Rock [December 18 2007, 09:50 AM]
Dutch band Within Temptation in Prague [November 28 2007, 17:08 PM]
PELICAN and HIGH ON FIRE from the US in Prague [November 22 2007, 16:55 PM]
Screaming and shouing disco-punk of Trash Fashion (uk) comes to Prague [November 13 2007, 14:00 PM]
The Whiskey Avengers, SKA concert in Prague [November 6 2007, 10:47 AM]
Die Happy concert in Prague [October 30 2007, 08:50 AM]
Petr Kolar on tour to his 40th birthday [October 9 2007, 09:45 AM]
The Yardbirds, 9th October, Prague [October 8 2007, 08:45 AM]
The Cure in Prague on 21th February [October 3 2007, 18:08 PM]
Apocalyptica to perform in Prague's Congress Centre [August 1 2007, 13:11 PM]
Sonic Youth to perform in Prague [July 27 2007, 12:48 PM]
The Rolling Stones in Brno already this Sunday [July 20 2007, 12:18 PM]
Trail of Death is coming back to Prague [July 11 2007, 17:11 PM]
Sonic Youth will perform in Prague in August [June 21 2007, 16:02 PM]
Gwen Stefani from No Doubt will probably perform in Prague [May 29 2007, 14:23 PM]
Concert of My Chemical Romance in Prague soon [May 17 2007, 16:34 PM]
Concert of Nine Inch Nails in Prague this August [April 25 2007, 14:37 PM]
Sunshine will introduce their latest album in Prague [April 16 2007, 17:20 PM]
Concert of Juliette and The Licks in Prague [April 11 2007, 12:41 PM]
Prague's concert of Laurie Anderson in June [March 22 2007, 14:14 PM]
Linkin Park will perform in Prague [March 20 2007, 11:20 AM]
Bryan Ferry for the first time in Prague [March 14 2007, 14:49 PM]
The Police with Sting plan to have a concert in Prague [March 6 2007, 13:52 PM]
Marilyn Manson will perform in Prague [February 22 2007, 16:12 PM]
Genesis with Phil Collins will perform in Prague [February 19 2007, 14:42 PM]
Ozzy Osbourne plans a concert in Prague [February 6 2007, 11:55 AM]
German band Tokio Hotel in Prague [January 23 2007, 13:58 PM]
Leningrad Cowboys soon in Prague [January 12 2007, 13:10 PM]
Californian Incubus soon in Prague [January 8 2007, 11:18 AM]
Roger Waters from Pink Floyd is coming to Prague [November 29 2006, 14:05 PM]
Chumbawamba in Prague Abaton Club tonight [November 20 2006, 14:00 PM]
Glen Matlock from Sex Pistols in Prague [November 14 2006, 10:22 AM]
The Levellers in Rock Cafe [November 9 2006, 14:56 PM]
Dutch group Focus will perform in Prague [November 8 2006, 15:29 PM]
Rock'n'roll concert in Prague tonight [October 3 2006, 10:19 AM]
Nick Cave´s show sold out [September 29 2006, 10:21 AM]
Ivan Kral in Prague tonight [September 25 2006, 14:21 PM]
Pearl Jam tickets available [May 25 2006, 15:45 PM]
Nick Cave in Prague [May 15 2006, 18:13 PM]
Guns N' Roses in Prague [May 12 2006, 20:48 PM]
Prague concert of Red Hot Chili Peppers is sold out [April 27 2006, 16:44 PM]
Pearl Jam in Prague [April 25 2006, 14:29 PM]
Bigbeat megaconcert at Letna [April 20 2006, 11:20 AM]
Red Hot Chilly Peppers in Prague [April 8 2006, 10:28 AM]