The most extensive work of Prague 1 is this year unique concept of free time use. The quite simple intention has a well-considered conception.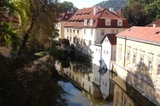 Strelecky ostrov
Makeover of the roads and and play components for kids, a new lift from Legie bridge and a 'stay meadow' intended for rest; on a blanket for instance.
Slovansky ostrov
Restoration of children railway and paving at Zofin, repair of mole, repair of roads, green, benches and bins.
Kampa
Reconstruction of the complete Kampa park area, adjustment of Certovka bed and repair of riverside walls among Sovovy Mlyny and Lichenstejnsky palace. Newly, the re is going to be a bikeline established
Prague have found out that for these investments it is possible to get money from the European Union funds. In some cases, EU funds are going to cover 85% of the costs.
Reconstructions start this summer, possibly later because of the EU Chairmanship. We are going to inform about further development.
Czech Communists gathered to protest against Radar [February 2 2009, 15:57 PM]
Peace Oasis at Prague Islands at construction [January 26 2009, 17:18 PM]
Viselec returned to Prague [January 22 2009, 15:33 PM]
Illuminated Sculptures in the Streets of Prague [January 8 2009, 13:55 PM]
Some gambling houses to disappear from Prague [January 5 2009, 11:41 AM]
The Royal Route in Prague renowned [November 28 2008, 15:12 PM]
Copa Centre on Narodni Trida – Offices, Flats, Shopping.... [November 12 2008, 12:45 PM]
Narodi Trida in Prague closes in summer 2009 [November 11 2008, 16:33 PM]
Neo-nazis wanted to march through Prague, weren't allowed [November 11 2008, 12:51 PM]
Kocka's burial: 3 pairs of horses [October 22 2008, 10:23 AM]
Bronze paving stones – little Jew monuments in Prague [October 9 2008, 09:39 AM]
Zizkov Tower Upgrade This Monday [October 3 2008, 11:41 AM]
Narodni Trida Station is going to be Closed [September 23 2008, 09:39 AM]
Video: Tourist trip to Prague – fun, happy [September 12 2008, 12:50 PM]
Destination Unknown Prague, Czech Republic [August 15 2008, 17:54 PM]
Art Phone = Phone boots with an attitude [July 24 2008, 09:35 AM]
Prague charity project - buy a brick, help to build [July 9 2008, 08:35 AM]
In the end the Sausages from Wenceslas square have to go [July 3 2008, 15:22 PM]
Prague Bans Public Drinking ... Soon ... ? [June 12 2008, 09:46 AM]
Olympic Day Run in Prague [June 10 2008, 17:31 PM]
Czechs cheering – Football team beaten Switzerland [June 9 2008, 11:45 AM]
The famous Zizkov Tower will get an upgrade [June 6 2008, 14:16 PM]
Caricatures of Prophet Mohamed appeared in Prague [May 30 2008, 09:21 AM]
Five Thousand Contestants Participe Prague Marathon [May 12 2008, 09:48 AM]
1st May and Neo-nazi gathering [May 5 2008, 12:02 PM]
1st May in Prague Was Non-violent [May 5 2008, 10:02 AM]
Over 1000 Police Officers ready for 1st May [April 30 2008, 09:55 AM]
1st May in Prague – 56 Events! [April 29 2008, 17:44 PM]
Surprising Concert of Lenny Kravitz took place [April 28 2008, 09:15 AM]
Czech Nacionalists prepared 'corridor of shame' for Communists [April 22 2008, 11:45 AM]
First Prague Parade in 2008 – Techno [April 14 2008, 13:45 PM]
Neo-Nazi March in Prague Video Footage in English [April 9 2008, 11:54 AM]
This Wednesday in Prague, at 18:00, Come to Support Tibet [March 18 2008, 17:51 PM]
Kosovo Independence Protesters Gather in Prague [February 25 2008, 10:05 AM]
Metropolis centre had the looks of a bright carnival parade. [February 4 2008, 16:59 PM]
Sausages kiosks stay at Wenceslas Square... for now. [January 25 2008, 15:23 PM]
Neo-nazi demonstration in Pilsen results [January 21 2008, 11:58 AM]
Snow for Prague Castle - preparations for Tour de Ski [December 28 2007, 13:53 PM]
Prague Public Notice: Prostitutes, out from streets! [December 27 2007, 13:47 PM]
"Daylight" in Prague Streets [December 13 2007, 15:23 PM]
News from Wenceslas Square [December 5 2007, 14:05 PM]
Wenceslas Square in Prague shakes off Communist Reconstruction [November 26 2007, 16:49 PM]
Snow for Prague Tour de Ski competition will be ready soon [November 23 2007, 11:02 AM]
Events prepared for this Saturday 17th November 2007 [November 15 2007, 14:08 PM]
Prague in Danger of Violence Again [November 13 2007, 18:21 PM]
Results of Prague Neo-Nazi march [November 12 2007, 16:27 PM]
Saturday – Radicals from abroad and 1400 Police officers in Prague [November 7 2007, 09:52 AM]
Right–wing radicals do not give up their Prague march [November 5 2007, 13:47 PM]
Come to Prague to see Tour de Ski competition [November 2 2007, 17:00 PM]
We will resist, say Prague Jews [October 25 2007, 12:00 PM]
Prague neo-nazis still want to March [October 24 2007, 11:40 AM]
Prague Legendary Architecture Hidden [October 10 2007, 15:55 PM]
Watch Charles Bridge Online [September 19 2007, 12:00 PM]
Prague maps for blind people [August 28 2007, 10:02 AM]
Woodrow Wilson statue will stand in Prague again [August 24 2007, 11:45 AM]
Attractive science in the streets of Prague [June 19 2007, 14:20 PM]
Prostitutes leave the streets of Prague [June 18 2007, 16:16 PM]
Demonstrations during the visit of George W. Bush in Prague [June 4 2007, 10:01 AM]
Million Marihuana March in Prague [May 7 2007, 10:03 AM]
Prague will be full of cyclists today [April 19 2007, 09:59 AM]
Narodni trida in Prague will change its face [April 18 2007, 16:43 PM]
More gas lamps in the centre of Prague [April 13 2007, 09:08 AM]
Extraordinary traffic lights in Prague [April 11 2007, 10:01 AM]
Small "flood" in Prague district Vysocany [March 29 2007, 11:55 AM]
Prague expects football hooligans [March 22 2007, 10:02 AM]
New tourist information centre in Prague [March 1 2007, 16:43 PM]
Sulphuric acid on Prague streets [February 26 2007, 12:23 PM]
Enjoy Sunday in Prague city centre [February 23 2007, 16:09 PM]
Prague suffers from too much light [February 22 2007, 12:36 PM]
New face of namesti Republiky [February 22 2007, 11:12 AM]
Nicer Wenceslas Square? [November 13 2006, 11:32 AM]
The city centre without cars [October 11 2006, 11:36 AM]
Sprayers want more legal places [August 28 2006, 16:45 PM]
Prague 2 fights against sprayers [August 24 2006, 09:43 AM]
Prague has street of Karel Kryl [August 22 2006, 09:29 AM]
Exchange office robbery in Prague centre [August 21 2006, 11:33 AM]
Prague coastguard has a new station [August 15 2006, 09:12 AM]
Prague centre may be cleared of illegal posters [August 10 2006, 10:58 AM]
Mozart in front of the Estates Theatre [August 7 2006, 09:57 AM]
Greenpeace and their "direct dialogue" [August 3 2006, 09:38 AM]
Three demonstrations expressing support for Israel planned for today [August 2 2006, 09:30 AM]
Another open-air cinema in Prague [July 31 2006, 14:06 PM]
Faster driving in Prague [July 25 2006, 09:38 AM]
Velotrixi are not wanted in the city centre [July 24 2006, 14:19 PM]
A blast in Hvezda park [July 3 2006, 09:05 AM]
Not all fountains in Prague are good for drinking [June 27 2006, 13:58 PM]
Car accident in Prague center [June 16 2006, 09:45 AM]
Watch out, woman pickpockets about! [June 15 2006, 09:56 AM]
The week of poster calm [June 5 2006, 12:29 PM]
Illegal posters in Prague [May 31 2006, 09:45 AM]
Mercury in metro [May 2 2006, 10:25 AM]
City hall versus sprayers [April 12 2006, 10:41 AM]