The Czech metropolis attracts millions of visitors every year. There is a difference among them, though – those who come from abroad look especially for well known Gothic and baroque monuments, meanwhile those from Bohemia aim for Prague Exotic entertainment, for the famous gorilla group, tigers or lions.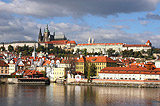 Prague Castle
1 342 246
Prague Zoo
1 196 954
Old Town Square City hall
456 002
Petrin Observation Tower
307535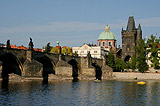 Petrin Maze
211 342
Old Town Bridge Tower
115 582
The numbers above speak about the number of sold tickets, which when count up make the Prague Castle the winner of visit rate in 2008. Beside tourists from abroad also because the Crown Jewels were displayed.