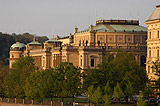 Everybody can participate in the 2007 Hervis Prague Half Marathon, which is held, together with Hervis Corporate Half Marathon, this Saturday. By popular demand, the organizers limited the number of participants to 6,000.
The organizers have one aim this year – to break the world's record. They invited the best runners who may reach the distance of 21kms and 97.5 meters in less than one hour. The main hope rests on three runners from Kenya Patrick Mutuku Ivuti, William Todoo Rotich and Ken Jacob Yator.
If the runners run at speed of 2 minutes 50 seconds per kilometer, they could manage. Among other stars are Czech athletes Roman Sebrle and Ludmila Formanova who will shoot from the start pistol. People can still register for the marathon today in Ovocny trh until 20:00. The winner will get €3500, if his/her time is better than 58 minutes 53 seconds, the award is €60,000.
See also restrictions in Prague public transport and restrictions on the roads in the centre of Prague during the marathon.
Prague Red Bull Crashed Ice Winners 2009 [February 9 2009, 11:34 AM]
Barman show competition in Prague [October 27 2008, 14:35 PM]
International Competition in Acrobatic Rock and Roll, in Prague [October 1 2008, 13:51 PM]
Prague wants to be a European Green City [September 3 2008, 09:49 AM]
Test: Klaus is politician with best public speaking [July 29 2008, 17:34 PM]
World Cup Skateboarding stared [July 4 2008, 13:44 PM]
Eurosong: Czechs Out [May 23 2008, 09:59 AM]
Kerndlova fights for the finals of Eurovision [May 22 2008, 09:55 AM]
Intersteno Prague 2007 [July 23 2007, 11:43 AM]
'Ecology Through a Lens' competition in Prague [July 20 2007, 14:09 PM]
Miss Deaf World 2007 in Prague [July 12 2007, 16:38 PM]
Gumball 3000 on Czech highways [May 3 2007, 11:03 AM]
Marathon Weekend in Prague starts in two weeks [April 27 2007, 12:57 PM]
Prague wants to break the world's record in Half Marathon [March 23 2007, 15:35 PM]
Prague International Marathon through the historical centre of Prague [March 2 2007, 09:53 AM]
Synchronised skating Prague Cup 2007 [January 16 2007, 14:37 PM]
Sudoku world's championship in Prague [January 9 2007, 11:39 AM]
The Czech Republic in Eurovision [January 3 2007, 13:11 PM]
Megashow K-1 in Prague [November 14 2006, 12:32 PM]
World Arena Motocross in Prague [November 3 2006, 11:40 AM]
Miss Prague 2006 in November [October 23 2006, 12:47 PM]
Fly fishing competition Orvis Cup 2006 [October 9 2006, 14:30 PM]
White collars' running competition in Prague [October 5 2006, 11:13 AM]
RoboTour 2006 in Prague's Stromovka [October 4 2006, 11:00 AM]
Amateur bands compete for one thousand dollars [July 27 2006, 13:18 PM]
Time Navigation
Newer articles:
Older articles: