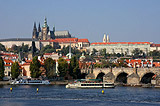 Probably in a few years people can use ships on the Vltava river in Prague as a new means of the public transport or to visit popular destinations in South Bohemia, such as Slapy or Orlik dams.
That's the plan of Prague city together with central Bohemia region. The ships could play an important role in tourism and development of the regions. To realise such a project, several docks and hotels near the river have to be built.
The ship transport could not only reach destinations in the Czech Republic, such as Zbraslav or Slapy, but also distant German city Hamburg.
Related Articles
Time Navigation
Newer articles:
Older articles: