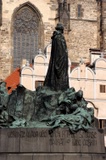 One of the most famous Prague's monument, the statue of Jan Hus dominating the Old Town Square is currently surrounded by scaffolding. This 100 years old statue needs a general reconstruction.
The foundation stone was laid down in 1905 but the statue was unveiled on the occasion of Jan Hus's anniversary in 1915. The last big reconstruction was made in 1965. The monument is dirty and rain water can easily get inside it now. The reconstruction of the statue will take at least one year.
Another statues that will be reconstructed are the Statue of Josef Jungmann in Jungmannovo namesti and Statue St Ivo in Charles Bridge. The reconstruction of both statues is planned to be finished by the end of this year.
Time Navigation
Newer articles:
Older articles: