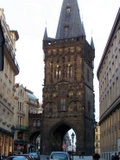 Powder Tower in Namesti republiky holds an exhibition about the times of the rule of Charles IV and his residence that doesn't exist any more and that used to stay in the place of present Municipal House.
On three floors of the exhibition visitors can come back to the 14th century. From the highest floor they admire a splendid view of the centre of Prague. The Powder tower is visited by about 50,000 people every year.
Prague Information Service also offers a special audio guide that explains interesting facts and events that happened at that time. Visitiors can chose from seven languages – Czech, English, German, French, Italian, Spanish and Russian. The exposition is open daily from 10:00 to 18:00 until October.
Time Navigation
Newer articles:
Older articles: