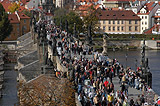 10 new security cameras are now on both towers at the ends of Charles Bridge – on Old Town Bridge Tower and Lesser Town Bridge Tower. They have been installed to protect famous Charles Bridge.
There were two cameras before, but they were not efficient. Charles Bridge and especially its valuable statues were attacked by vandals many times. After the damage of an old inscription on one of the statues, that was found at the bottom of the Vltava river, new security measures had to be taken.
The cameras will monitor Charles bridge 24 hours a day. The screen will be checked by both state and city police. There are also officers regularly patrolling the bridge.
Time Navigation
Newer articles:
Older articles: