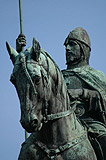 The Statue of St Wenceslas on the upper part of the Wenceslas Square has been always a meeting place of Prague citizens and tourists. Wenceslas I. was the Duke of Bohemia, later canonized and now commemorated on 27th September.
In two months the statue of St Wenceslas might be guarded by a security camera system, the same one that now monitors the statues on Charles Bridge. According to the councilman for culture Milan Richter, the damage caused by vandals every year reach 200,000 CZK.
Besides the security system, the city council wants to place information boards next to the statue on which tourists could read information about this monument made by Josef Vaclav Myslbek in 1912.
Time Navigation
Newer articles:
Older articles: