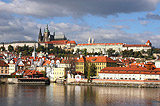 Even though you may think that you know Prague Castle very well, you might be surprised to find places that are not mentioned in Prague guidebooks but still they don't lack their magic.
Instead of walking up the Old Prague Castle Steps, stroll along the streets Na Opysi or Chotkova to the Deer Moat. This green calm place created by the stream Brusnice is not crowded by many tourists and still offers a great view of famous monuments, such as Daliborka and Mihulka towers, St Vitus Cathedral or Queen Anne's Palace.
The Dear Moat will take you to Prague Castle or U Brusnice street which leads to lovely street New World and narrow streets around the Loreto.
From U Brusnice street you can also easily get to Lumbe's garden opened since the last year. There are many concerts held in that garden. Lumbe's garden used to belong to the Lumbe's villa, the residential villa of the Czech president.
Time Navigation
Newer articles:
Older articles: