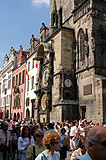 Much more tourists visited Prague monuments administrated by the Prague Information Service (which belongs to the city of Prague) in the first sex months of this year than in the same period last year. From January to June 572,800 people visited these monuments, which is by 110,200 more than in 2006.
The visit rate of the Powder Tower increased by 150%, also thanks to a new exhibition presenting the life of people in the medieval times. The most popular building administrated by the Prague Information Services was the Old Town Hall in the Old Town Square in the centre of Prague. The Old Town Hall offers many permanent and contemporary exhbitions as well a nice view of Prague from the Old Town Hall Tower.
More and more tourists also plan the journey to Prague via tourist guides on internet or use the servises of information centres.
Time Navigation
Newer articles:
Older articles: