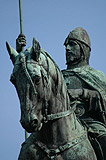 St. Wenceslas was a loved Czech King propagating Christianity. He ruled over Prague in the 10th century.
We celebrate his day on 28 September, as a Czech Statehood Day (Den ceske statnosti)
According to legends, St. Wenceslas was murdered when he was going to the morning religious service in 935, by the mercenaries sent by his brother Boleslav. St. Wenceslas became a patron of the Czech state.
Related Articles
Time Navigation
Newer articles:
Older articles: