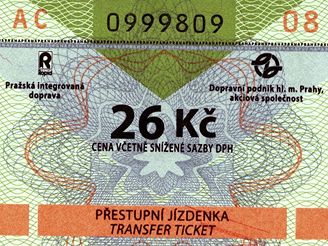 During this weekend, the new tickets will be introduced at all common distributors. According to the MHD Prague Public Transport company they will be much safer, as they include more safety elements than the older travel vouchers. A controllers will recognize fakes much easier.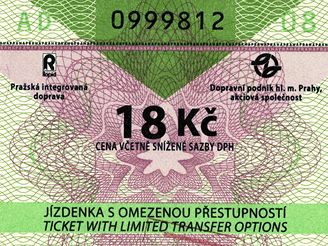 According to its speaker, the MHD doesn't have much problems with counterfeiters, but they want to be up-to-date, according to modern standards.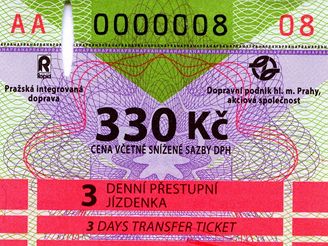 The biggest change is in the color, which is green, with a color line according to the price. The pictures we provide are cut in half, if you want to see the whole design, check it here. If you want some information about SMS tickets in Prague, go here.
Big Problem of Prague Tramway Tracks Revealed [February 11 2009, 13:43 PM]
Hradcanska Tramways Closure to Prague Castle [February 3 2009, 09:45 AM]
SMS Tickets: Special Service, or hazard? [December 11 2008, 13:55 PM]
Public Transport in Prague changes: more of everything [December 9 2008, 07:22 AM]
Changes In Prague Metro Interior [November 6 2008, 12:39 PM]
Tram Closure in Prague [August 18 2008, 09:36 AM]
Prague Underground 'Metro' Celebrates 30th Birthday [August 12 2008, 15:39 PM]
Prague introduces more night buses [August 8 2008, 08:29 AM]
The card of Prague citizen makes another step [August 6 2008, 09:46 AM]
Another Prague Ferry Finally Put on Vltava [August 4 2008, 13:39 PM]
Metro In Prague Video from Cockpit [July 31 2008, 13:32 PM]
Have you tried to buy an SMS Ticket? [July 4 2008, 08:00 AM]
Yesterday Prague Transport Employees Strike [June 25 2008, 13:45 PM]
New Metro Stations in Prague to finally Open [May 6 2008, 17:28 PM]
Widening of footways in Prague [April 25 2008, 09:55 AM]
A new web to make traveling in Prague easier [April 16 2008, 14:01 PM]
New Prague Tramways T15 Pictures [April 10 2008, 18:01 PM]
New Prague Metro Stations [April 8 2008, 14:04 PM]
Prague Metro building anti-terrorist protection [April 3 2008, 10:02 AM]
Sms Tickets Becoming a Hit [April 2 2008, 09:55 AM]
Secret Design of new Prague Tramways Revealed [April 1 2008, 09:14 AM]
New MHD Tickets Design [February 22 2008, 13:55 PM]
SMS Tickets Working Fine [February 1 2008, 11:55 AM]
Prague underground: probably back to turnstile [January 23 2008, 10:01 AM]
Free Rides in Prague Public Transport can cost you [January 16 2008, 09:22 AM]
Time Navigation
Newer articles:
Older articles: