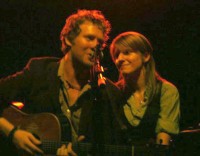 The Sunday Oscar ceremony was commented by international media, especially the acceptance speech by Martina Irglova got a lot of approvals.
"… No matter how far out your dreams are, they can become true…fair play to those who dare to dream and don't give up… "
This is an often quoted sentence from the short speech by Iglova, which the British Mirror labelled a one of the most inspirational Oscar speeches. Mirror recalled, that before the movie gained fan base, Hansard with Irglova were practically unknown.
USA Today pointed out a scene from the backstage; Glen and Marketa played with the gained statues. Glen said: "Let's put them together, like if they are kissing each other." Marketa: "But they are two boys!" Glen: "But this is Hollywood!"
Server New Musical Express stated Hansard gained a sms from Bono: "From the streets directly to the Oscars. Congratulations."
The Biggest Cappuccino in the World in Prague [February 10 2009, 13:50 PM]
Czech Sablikova Won Allround Speedskating Gold [February 9 2009, 09:55 AM]
Czech sportsman of 2008: Barbora Spotakova [January 12 2009, 11:55 AM]
Schwarzenberg got high German Badge [December 16 2008, 09:49 AM]
The best dumplings in Prague [November 27 2008, 17:48 PM]
Marketa Irglova Amazed Royal Abert Hall [November 25 2008, 17:48 PM]
Spotakova Awarded 'Athlete of the Year' by IAAF [November 24 2008, 13:31 PM]
Arnost Lustig was Awarded [October 24 2008, 09:24 AM]
Best European Documentary of 2008: From Czech Republic [October 22 2008, 17:36 PM]
Havel gained German prize Point-Alpha [September 30 2008, 15:35 PM]
Czech Journalist have gained prestigious Emmy award [September 25 2008, 11:49 AM]
Vaclav Havel gained Seifert's Prize [September 22 2008, 11:27 AM]
Barbora Spotakova holds the World Record! [September 15 2008, 09:54 AM]
Joan Baez calls Havel and Mandela pillars of 20th century [July 21 2008, 15:15 PM]
Czech Miss Buckova was among the finest at Miss world Competition [July 15 2008, 11:30 AM]
Czech Golf Player Kordova didn't get her 43 000$ but still is a miracle [July 1 2008, 09:36 AM]
Fabia Advertisement Best in the World [June 23 2008, 11:35 AM]
Dominik Hasek: Goodbye. Seriously. [June 10 2008, 09:09 AM]
Anti-Eco prizes award Klaus and Neumannova [April 25 2008, 16:55 PM]
Bauer finally got his Globe [March 17 2008, 18:03 PM]
Chinaski play great Czech pop-rock [March 12 2008, 15:46 PM]
The first Michelin star in the Czech Republic [March 11 2008, 12:02 PM]
Martina Sablikova won the world Championship [March 10 2008, 10:10 AM]
Klaus didn't congratulate Irglova on her Oscar success. Why? [February 28 2008, 11:44 AM]
Marketa Irglova praised for her Oscar speech [February 27 2008, 14:02 PM]
Time Navigation
Newer articles:
Older articles: