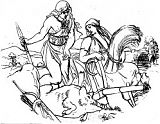 Mikolas Ales is one of the most important and well-known Czech artists. Now you have a change to see his works at the big retrospective exhibition called Mikolas Ales 1852 – 2007, which is being held in the Prague Castle Riding School until 20th of April 2008.
In the exhibition you can see representative overview of Ales´ work, mostly he was inspired by the Czech history and traditions. There are drawings and paintings on the theme of the life of Old Slavonic people, who lived in Bohemia in ancient times, scenes of important moments of the Czech history, pictures depicting the idyllic life of Czech lands inhabitants or illustrating national stories, proverbs and legends.
The complete information is here. You know you want to know more!
Mucha exhibition in Vienna [February 12 2009, 16:04 PM]
Exhibition of old Radios in Prague [December 5 2008, 18:22 PM]
Academism and kitsch combined = Prague exhibition [November 28 2008, 07:05 AM]
Prague Castle Exhibits Nativity Scene Gems [November 20 2008, 11:50 AM]
Fresh Nature Art Exhibition in Prague [November 11 2008, 14:22 PM]
Adolf Born Exhibition in Prague [October 1 2008, 11:52 AM]
Alfons Mucha and Art Nouveau Exhibition [August 5 2008, 09:49 AM]
Never-ending painting in Manes Gallery [July 18 2008, 09:55 AM]
Love, Erotica, Passion Exhibiton in Prague [July 8 2008, 17:34 PM]
Clocks and Watches Exhibition at Prague Castle [June 9 2008, 17:56 PM]
The Health Food Festival of Prague [June 4 2008, 17:49 PM]
Very Important Painter Exhibition at Prague Castle [March 28 2008, 15:40 PM]
Big exhibition of alternative contemporary art in Prague [February 29 2008, 15:42 PM]
Exhibition of contemporary Czech painting in Prague [February 21 2008, 15:59 PM]
Michael Rittstein expressionist exhibition in Prague [February 8 2008, 09:49 AM]
Poetic, Naive Pictures Exhibition in Prague [December 13 2007, 09:09 AM]
Vaclav Hollar in Palac Kinsky [November 5 2007, 11:21 AM]
Old Town Square exhibition of Graphic Art [November 1 2007, 16:35 PM]
Clare Woods until 20th October in Prague [October 11 2007, 17:55 PM]
Good news everyone! David Cerny has a home-center! [October 1 2007, 11:55 AM]
Prague Castle Picture Gallery - Rudolphian Beauty [September 25 2007, 10:01 AM]
Czech Van Gogh, Emil Filla, in Prague [September 18 2007, 10:00 AM]
Painter and Rector Jiri Sopko in Rudolfinum [September 17 2007, 18:00 PM]
Precious painting returns to the Prague Castle after centuries [August 29 2007, 09:59 AM]
Czech Secession exhibition in Prague [July 27 2007, 11:14 AM]
Time Navigation
Newer articles:
Older articles: