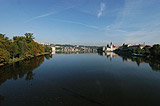 To jump into Vltava river during those hot summer days is something that comes into a lot of minds. The water doesn't look that bad, but the instinct of self-preservation warns it doesn't have to be completely safe. Or is it?
The Prague newspaper Denik investigated, whether is it safe, Zdena Staskova from the Hygiene station of Prague said: "According to our measuring, the water in Vltava is not suitable for swimming. But- it is probable that 90 out of 100 wouldn't have any problems from it."
Clearly, those who should avoid swimming in Vltava are those sensitive to allergies and with sensitive mucosa. If anyone swallows some Vltava water in Prague, there may be some tummy sickness. At least one should take a shower afterwards.
There is enough of those, who don't care about water quality and go to swim anyways. A lot of them group at Smichov Beach, even more at Zlute lazne, which have showers, bars, newly also a nudist beach.
Related Articles
Time Navigation
Newer articles:
Older articles: