Prague – an architectonic jewel, for some represented by the Gothic Prague Castle, for many others, however, it means the Dancing house, hotel Metropol on Narodni Trida or the administrative building Muzo at Strasnice. Those three got into the top 50 most significant Prague buildings, objects or projects, that originated in the past twenty years.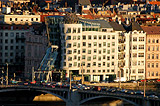 Those fifty were carefully selected by curators of Jaroslav Fragner Gallery, who have opened the exhibition New Face of Prague in the Czech Centre Prague in Rytirska ulice yesterday.
What is the new face of Prague, so? "There is no distinctively Prague style, and quite probably there will be no in the future. The exhibition shows the variety, appearing in Prague architecture. The problem is, from those great numbers of objects being build in Prague, only a few are worthwhile." The exhibition curator Dan Merta stated for Lidove Noviny. The present face of Prague will be presented here in Czech Centre Prague in Rytirska, next year in Slovakia, after in Berlin.
Prague Wenceslas Square exhibition [October 13 2008, 15:49 PM]
Unique Documentary of August 68 Russian Invasion to Prague [August 15 2008, 15:52 PM]
Czech Pes Foto – Dog Photography with an attitude [July 30 2008, 11:38 AM]
Exhibition of Various Faces of the Metropolis [July 25 2008, 08:31 AM]
ALIVE Animal photos Exhibition in the centre of Prague [June 13 2008, 15:51 PM]
Prague of Many Faces – Photographs exhibition at Prague Castle [May 15 2008, 15:34 PM]
Gregory Crewdson photo exhibition [March 11 2008, 15:56 PM]
Half a century of the Prague Castle photography exhibition [November 16 2007, 18:24 PM]
Jindrich Streit Black and White photography exhibition Prague [November 15 2007, 09:02 AM]
Czech Press Photo awards 2007 [October 18 2007, 12:00 PM]
Explosive Roman Signer and his Travel Pictures in Prague [September 20 2007, 16:00 PM]
World Press Photo 2006 in Karolinum [September 14 2007, 16:02 PM]
Prague hosts World Press Photo 2007 [September 13 2007, 14:38 PM]
Kolbaba's exhibition at Prague Airport prolonged [August 31 2007, 15:06 PM]
Prague Castle in Photographs 1939 - 1989 [August 23 2007, 09:22 AM]
Gallery in the train comes to an end [August 16 2007, 14:51 PM]
Look animals in the eyes - exhibition in Prague [August 15 2007, 09:55 AM]
'The Roof of Africa' in Prague's New Town Hall [August 13 2007, 11:39 AM]
Large photographs of gardens of the world in Prague [August 8 2007, 14:41 PM]
The Magic of Eastern Africa in Prague [July 31 2007, 13:10 PM]
Sport Photo 2007 in Prague [July 24 2007, 16:46 PM]
Exhibition of photographs in the Old Town Bridge Tower in Prague [July 17 2007, 15:33 PM]
Drawn By Light exhibition in Vysehrad Gallery in Prague [July 11 2007, 13:05 PM]
Maximum Photography in the gardens of Prague Castle [June 26 2007, 15:09 PM]
Photographs with a flavour of faraway countries [June 20 2007, 09:46 AM]
Photographs of Chicago by Terry Evans in Prague [June 7 2007, 11:21 AM]
Photography exhibition against uncontrolled arms [June 4 2007, 18:20 PM]
'Women from Kibera' exhibition in Prague [May 31 2007, 12:31 PM]
Vaclav Spillar's exhibition 'Marvellous Planet' in Prague [May 23 2007, 13:42 PM]
People and The Earth exhibition in Prague Old Town Hall [May 21 2007, 14:21 PM]
Jiri Kolbaba photographs at Prague International Airport [April 30 2007, 15:24 PM]
Sara Saudkova's photographs in Prague's Old Town City Hall [April 3 2007, 10:41 AM]
The best pictures of Prague on display now [April 2 2007, 12:24 PM]
Mysterious Prague in photographs [March 30 2007, 10:00 AM]
Gallery In The Train presents Wender's photographs [March 14 2007, 12:53 PM]
Kolbaba's photographs in Old Town City Hall [March 8 2007, 15:03 PM]
Exhibition of Indian pictures created with a mobile phone [February 15 2007, 10:58 AM]
Landscape photographs in Old Town Hall [February 7 2007, 14:30 PM]
Touch the North through every sense [February 6 2007, 14:12 PM]
Jan Saudek Gallery opens today [January 17 2007, 11:50 AM]
Photographs of Shomei Tomatsu in Prague [January 11 2007, 13:21 PM]
Czech Christmas And School exhibition [December 14 2006, 11:18 AM]
Old unique photographs from distant journeys in Prague Rudolfinum [December 8 2006, 12:41 PM]
Exhibition of untypical pictures of Prague [December 7 2006, 16:19 PM]
Prague Castle in Photographs 1900 - 1939 [November 15 2006, 11:36 AM]
Koudelka's photographs "Camarque" in Prague [November 10 2006, 14:48 PM]
Exhibition of New York photographs [November 8 2006, 10:45 AM]
Exhibition of photographs - Mies van der Rohe Award 2005 [November 1 2006, 15:15 PM]
Last two days of Bertrand's exhibition [October 30 2006, 10:10 AM]
Exhibition of Grete Popper's Photographs [October 24 2006, 13:58 PM]
Know The UNESCO World Heritage exhibition in Prague [October 23 2006, 14:47 PM]
The Best of Jan Saudek exhibition in Prague [October 20 2006, 13:45 PM]
Czech Press Photo 2006 [October 13 2006, 14:10 PM]
World Press Photo ends this Sunday [September 29 2006, 09:41 AM]
Jan Šibík's Stories - More than a mere exhibition [August 2 2006, 10:39 AM]
Unique exhibition: bird'-eye view of the world [August 1 2006, 10:49 AM]
Forgotten Prague [July 21 2006, 14:40 PM]
Lost Prague ghetto in pictures [May 17 2006, 15:44 PM]